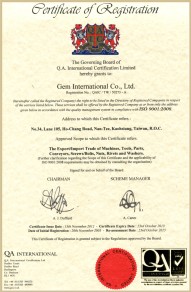 ISO 9001:2008
(Click to Enlarge)
ISO 9001.2008 Certificate
Gem International Co., Ltd. was founded in 1996, is very well supplier/export in Screw/bolt, nut, rivet, nail making machines, Screw/bolt, nut, rivet optical sorting machine, Conveyor, Centrifugal oil cleaner and Fastener toolings. The company was ISO 9001 certified in November 2003. Gem International has established its good reputation in being able to supply customers with good quality products of machinery,Conveyors, toolings, conveyor, Centrifugal oil cleaner and so on, while staying competitive in terms of quality, stability, pricing and delivery. Moreover, the company has successfully developed its global markets by trading with companies in many countries and regions throughout the world, including Germany, Spain, Italy, Switzerland, Sweden, East Europe, Central and South America, Middle east, India,Southeast Asia etc.
We are sure that we will be your best business partner at the time when the precise machine industries is growing continuously.